In the wake of social media becoming increasingly saturated and costly, two big cards any brand have in its hand are SEO and email marketing. Both of which work hand-in-hand (pun intended).
Click here to read more about the decline in social media →
According to a recent study by OptinMonster, 60% of consumers prefer email for promotional information, and only 20% of consumers that follow brands on social media like to receive promotional messages from said brands. Despite popular belief, email marketing is alive and well my friends.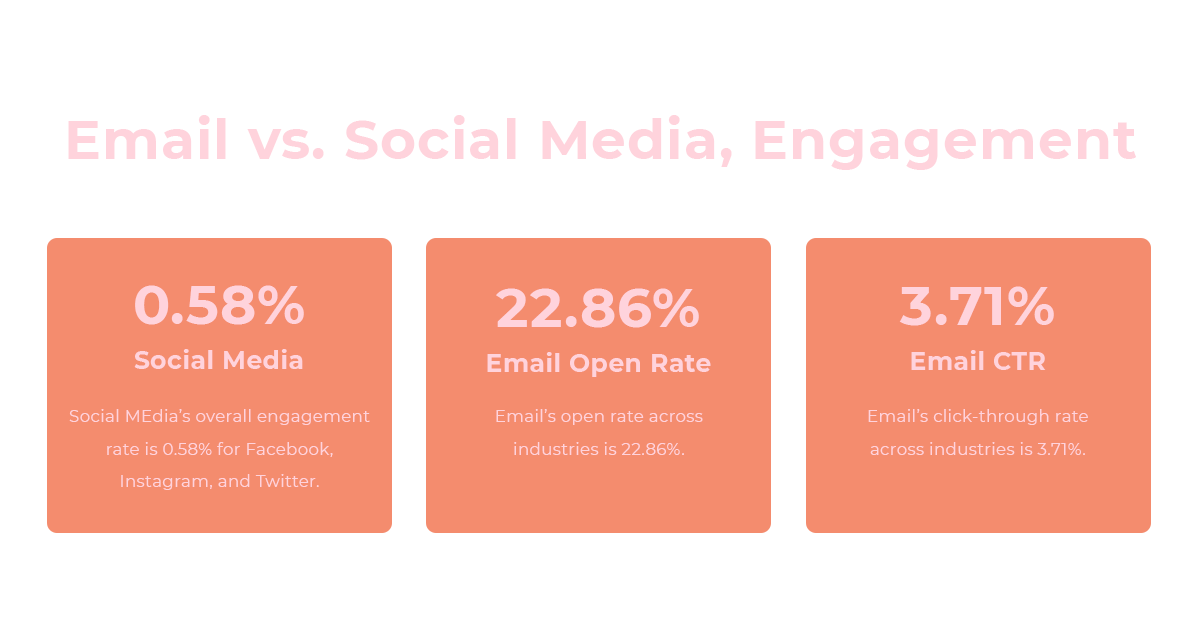 Facebook, Instagram, and Twitter have an average engagement rate of less than 0.6%. Considering that email's average open rate is 22.86% with a click-through of 3.71% if it seems like investing in email is a no brainer, you're not wrong.
Key takeaway: Emails reach most of the people they're intended for, so email marketing remains an essential part of your marketing strategy.
Here are some quick stats on email marketing:
$44 ROI—return on investment—for every $1 spent.
17.75% of clicked through emails result in a purchase.
56% of brands using emoji in their email lines had a higher open rate.
14.31% increase in opens when brands segmented their lists/campaigns.
At 22.64%, Abandoned Cart Emails have the highest conversion rate by campaign type
Top Tips to Improve Your Email Marketing Strategy
Before I dig into my top tips, it's important to remember that an opt-in is in fact a conversion on your site. Although it isn't money in the bank, with a conversion rate of 17.75% (assuming the person opens your emails), it's the appetizer before the main course. And once that conversion turns into dollars, it's the sweetest treat. Don't discount building your list if you don't see sales right away. Consider the following tips so that you're making the most out of those opt-in conversions.
Note: The average rate is 1.95%, meaning 1.95% of your visitors will subscribe to your email list. 10% of marketers have an average opt-in rate of 2.77%.
Consider Email Frequency:
Email frequency is exactly what it sounds like: how many emails (or how frequently) are you sending to your list. A big no-no many businesses do is hoarding subscribers but never using it/sending messages. In this case, your list is actually getting "cold" and less effective as time goes on.
The frequency of your emails will usually relate directly to your total budget. The higher your budget, the more emails you can send, if you're working with a professional.
In a 2017 study, retailers that scored the highest in terms of effectiveness sent an average of one email daily. This set them apart from many of their competitors as many retailers send fewer emails.
Make Your Emails Mobile Friendly:
In a mobile-centric world it seems almost intuitive that brands/retailers would send mobile friendly mails. But a majority of email marketing systems show desktop design as the primary design and a most won't check to see how it looks on mobile.
In the aforementioned study 83% of retailers don't send any mobile friendly emails. Mind = blown, and while the trends have likely changed since the 2017 study, it's still a wide open space that will allow you to outpace your competitors.
Content is King:
Even if you are a niche brand, it's likely that your items appeal to different audiences. You can segment your email list into user behavior to narrow this down, but most large retailers will include multiple product categories per email so that their reach is broad enough to capture users who may not have been enticed by the featured content of the email.
Use email to show off more of your product catalog (i.e. merchandise it because people aren't clicking to page 5 of your web store). It's possible that you have 100 items, but only the first page is being browsed. Think about how other items in your store might go together in a new and fresh way.
How to create supporting content? Consider additional in-bound marketing like blogs to drive followers through new traffic funnels.
####Embrace Automation: There's nothing better than a good automation because it's an upfront investment that will continue to run until you turn it off or shift your content. Aka you do the extra work now and let it passively make you money overtime.
You can implement email marketing and automation in multiple areas of your business.
Automate your sales efforts, so that customers know when it's time to repurchase.

Support customers throughout their entire journey—from start, to middle, to finish, and then repeat, as needed.
The highest email marketing conversion rate by campaign type is Email My Cart, followed by SCA at 18.72%. The lowest converting type is Browse Abandonment at 3.98%. Consumers in these categories have a low rate of intent and don't even add items to their cart; therefore, there's hardly any engagement.

Photos by Ashley Burns
Just like social media, your email marketing campaign is really about exposing your product line. Ask yourself, how long does it take you to engage your new and current customers when you're using paid promotions on platforms you don't own (Facebook, Instagram, Pinterest)? Need help building an email marketing campaign? Click here to learn more.